People kinda like me. Which is sort of surprising. That, or they're taking the piss. Regardless, I got these!
From Stasha of The Good Life
From Leighann of The Endless Rant of a Multitasking Mumma
From Amie of And We're Off To… , Jami of Adventures of a Crazy Ass Mama, Kirsten of Running 4 Autism, Janice of Mommy's Lounge and Deborah of MannaHattaMamma.
From Bernie of One Mixed Bag
From Jen of Runner Mom
From Sarcasm Goddess of For The Love Of Writing
From Kid Id of From Diapers to Diatribes
From Mandi of Boredom Busting Mommy and Germaine of Kiddothings
From Ann of Cooking Healthy For Me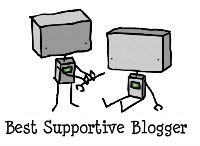 From Kristi of The Robot Mommy

From Jamie of Chosen Chaos and Janice of Mommy's Lounge