Do you live with regrets?
Do you let them consume you?
Or do you move past them and consider them lessons?
I have always lived my life with as few regrets as possible. That is not to say I haven't made some bad decisions and terrible mistakes, I have.
However, I choose to rise above them, and consider them a lesson learned.
Today, I share my no-regrets way of life at my final post at Just.Be.Enough. for the weekly Be Enough Me link up. Come cheer me on?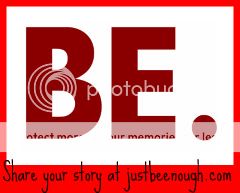 Every MONDAY join Just. Be.Enough….
Write, post, link-up, share your story and your voice.
Be part of carrying the weight of confidence and share our mission
to empower, inspire, and remind women, parents and children
that the time has come to celebrate ourselves!
Comments are closed.