This week at Just.Be.Enough., we are writing letters to our future self or child.
My son is 21 1/2 months old now and I just know that before I can say, "Bananas for everyone!", he will be taller than me; he will be a teenager, then an adult; he will date and get married; he will have children and grandchildren….wait, I'm getting ahead of myself.
Let's just start at 18 and go from there, shall we?
Dear 18 year old Monkey,
When you read this, I hope that you will be the young man your father and I will be proud of .
We hope that…
You are kind.
You are strong.
You are independent.
You are generous of spirit.
You are smart.
You are happy.
You are inquisitive.
You are patient.
You are hardworking.
You are tough.
Mama also hopes that you start your adult life with a strong sense of self.
That you know who you want to be.
That you are humble and know that others can teach you much.
That you still love to learn, and know that learning is a lifelong process.
That you remain determined and will try and try again, if you fail.
That if you fail, you know it's not a reflection of weakness.
That if you have weaknesses, you know that only makes you human.
That when you succeed, you know that sharing it with others makes it much sweeter.
That you are always open-minded and accepting of others and their differences.
That you never give up – on yourself or those around you.
That you are reliable and always keep your promises.
That you are loving – of yourself and others.
I know you will make me proud.
Mama loves you.
xoxo
Your ever loving Mama.
PS: I hope that you won't be mad at me for entering you into the Mommy Shorts Evil Baby Glare Off contest. I don't think you're evil at all, but you certainly knew how to pull a glare! I also know you won't be mad at me for using your letter as a way to ask my readers to vote for you! (He is the fourth child, Zayn versus Mikey, vote here now! Voting ends midnight EST)
Every MONDAY join us… 
Write, post, link-up, share your story and your voice. 
Be part of carrying the weight of confidence, empowerment and share our mission
to empower, inspire, and remind women, parents and children
that the time has come to celebrate ourselves!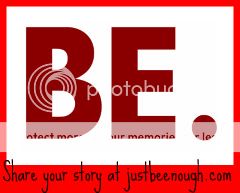 What's your message for your future self or child?