You made it clear within minutes you were not having any of this.
You hated the place.
You wanted out. Out NOW.
You screamed. Cried. Hit. Bit. Kicked. Ran.
You pulled at my hand. Pleading. Let's go, please, I don't like it here.
You were angry. So angry.
You lashed out, unable to express yourself another way.
10 minutes. We lasted 10 minutes at breakfast with a friend I hadn't seen in months, who was in town for only 2 days.
Profuse, repeated apologies.
Her kindness and understanding made it even harder for me to say, "I'm sorry, I have to leave, he's not going to calm down otherwise."
My mortification amplified my anger.
At you for being out of control in public.
At myself for feeling like I failed you, failed to teach you proper public behavior.
I drove home in anger. You sat in silence.
We walked in the door, your father greeted us, immediately struck by our mood.
My angry words were, "I cannot take him out. Cannot. It's impossible."
I strode off to the bedroom, saying "Please, please keep him away from me now."
I could hear him cry. My child.  Crying into his father's shoulder.
I sobbed. Cried big ugly tears into my pillow.
I questioned my abilities as a mother.
I realized my son, my 20 month old toddler, KNOWS I'm angry. He knows I'm mad at him. And that is what is making him sad.
That made me sad. And so very sorry.
For 10 minutes, I lay there, my heart broken at the thought that I'd hurt my son's feelings. That I did not take his wants and needs into consideration, while I tried to take some adult time.
I went outside. He was sitting on the sofa, quiet and sullen.
His father, trying to mediate quietly. "I told him he should apologize." Half-jokingly. We know he's only 20 months, does he even understand the concept of apologizing?
"Say sorry to your Mama."
My little boy got up, looked at me with his wide brown eyes, and climbed onto my lap, snuggled his head on my neck, into that space between my ear and my shoulder.
Just like he used to when he was a baby.
I stroked his head, inhaled the scent of little boy hair. Wrapped my other arm around him.
"Mama's sorry too, baby. So sorry."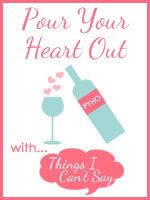 Do you want a spot in 

The Bloggess 

sidebar for one month, increasing exposure and site traffic for your blog? The Bloggess only gets an average of one million page views a month! You can, just enter

lovelinks

 at

free fringes

and make it happen. For more information on the contest, click 

here

. 
Lovelinks

is easy – you just have to link up your favorite post every week, read and comment on a few other blogs and that's it! You come back in a few days to vote for your favorite post, easy peasy. 

Lovelinks #23

is open for submissions for the next 24 hours! 
PS: I'm on the judging panel. I promise to be partial. 🙂