A writer is one who produces literary content, including but not limited to stories, poetry, books, plays. The word is almost always synonymous with author.
By that definition, I am by no means a writer. I don't write stories, fiction or non-fiction. I don't write poetry. I have no intentions to write a book or a play.
I write this blog, yes. But, I don't always invoke tears or laughter. I don't always give my readers something to think about.
I don't always write about what my toddler did today that taught me a profound lesson in parenthood or life.
I don't offer wisdom of any kind on a regular basis.
I don't write about postpartum depression, suicide prevention, divorce, single parenthood. I don't write about the hard stuff, the serious stuff, the things that may help someone by sharing my experience.
I don't spend hours on my posts. I don't read, reread, edit, reedit, endlessly. I write when something comes to me, and I just have to write it down.
I find it difficult to write more than 300 words per post.
I have no distinctive style of writing.
I share recipes. I share photos. I share my drawings. I share snippets of my life. I share bloggers I enjoy reading. I share my love of lists. I share my love of tips.
There are times when I read blogs, whose writing sways me, strikes me, grabs me by the throat, brings tears to my eyes, puts a smile on my lips, brings laughter to my belly – and I feel inadequate. I feel like an imposter.
Then I read the comments on my posts and see the support and friendship that my blog has given me.
The realization that the words I have written has given me that, the immeasurable. That is enough.
I am not a writer. And that is fine with me.
Just.Be.Enough is partnering Bellflower Books and Crickett's Answer For Cancer where for every 20 stories about Being Enough, Bellflower Books will donate a memory book to a woman and family fighting breast cancer through Cricketts Answer for Cancer. The campaign runs until September 14th.  If you have you have lived the Be Enough Me feeling this week, do link up, we're very close to our goal!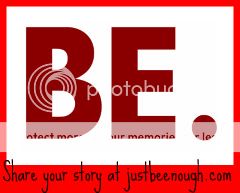 Do you think of yourself as a writer?
Linking with lovelinks #23.