Not from drinking, as I don't drink.
I am however a Tipsy Friend today at my fellow Malaysian mom blogger's place, Kiddothings, where I share my tips on how to avoid baking disasters.
I would know all about that, having burnt apple crumble, made rock hard muffins, inedible banana loaf and failed miserably once on Nigella Lawson's cherry chocolate cupcakes.
So go on over to read my post and show me some love!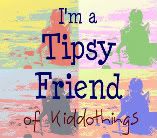 Comments are closed. Please head to Kiddothings to tell me whether you've had any baking disasters. Thank you!