SuperBLOGirl.
That's the suggested 'superhero' name, bestowed upon me by Deborah of Ask Dr G (@AskDrG) due to the following myths:
Myth 1: I read and comment on every single blog out there.
Myth 2: I tweet 24/7.
Myth 3: I write a week's worth of blog posts in advance.
I'm afraid I have to dispel those myths, set the record straight and reveal to you the truth about how I really blog.
Truth 1: I only read and comment on 20-30 blogs a day in my favorites folder. I then visit the blogs of readers who leave me comments if I don't follow them one way or another (thank goodness for CommentLuv, and yes, another truth, I don't and can't afford to follow everyone) And, if  I have time, I'll visit the blogs in my other folders (read second, read third).
Since we're confessing, I'll just say it. I don't comment all the time on all the posts I read for various reasons. It's mainly due to the lack of time and lack of something meaningful to add.
 Truth 2: I tweet more on weekdays, mostly in the mornings, as that's the time when my tweeps are online (it's their evening/ night). I leave Hootsuite on, but I'm not hanging out by it waiting to jump into conversations, or writing a witty tweet and waiting for someone to respond. I hardly tweet on weekends. I also set aside some mornings for #VlogTalk chats and #wineparty.
Having my toddler around in the mornings mean I can't sit on my ass all morning, tweeting.
Truth 3: I am a fly-by-the-seat-of-my-pants type blogger, meaning sometimes, I write just before I actually publish a post. I don't always have a plan. I do have an idea bank of sorts and I have a calendar outlining my fortnightly Guest Star series, guest posts I've been asked to write, the weekly Be Enough Me post for Just.Be.Enough for which I'm a contributor, and the rest of my calendar is blank. And they stay blank until I think of something to write.
I am making an effort to sit down and write a week's worth of posts on Sundays, when it's quiet in the blog world and Twitterverse. Occasionally, I succeed. However, plans don't always go my way. I do have a family to spend time with, meal planning to do and grocery shopping to do on weekends!
However, I do make time to reply to every comment on my posts, and reply emails as soon as I can. That's my commitment to my readers. That is part of what I talked about in this post, and I'm not about to go against my own words.
So that's the truth. I don't deserve to be SuperBLOGirl though I'd love to be. I want to be able to drop by all of your wonderful blogs all the time, write meaningful comments each time, tweet with every single soul out there and write awesome posts in advance.
However, I also need to be with my son. Have face-to-face time with my husband. Go out for playdates (for my sanity). Cook. Bake. Clean the house. Eat. Sleep. Read books.
I'm not SuperBLOGirl and that's okay. I'm a good enough blogger, and I'm happy with that.
The Be Enough Me link-up is truly meaningful for one month, starting August 22. Bellflower Books is sponsoring us to provide memory books for women fighting breast cancer. We are targeting 120 posts to be linked up! Details here – please write about your Be Enough Me feeling and come and link up!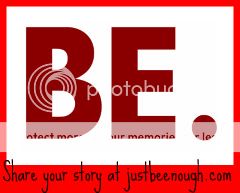 What kind of blogger are you? How do you balance the reading/ commenting/ tweeting and life?
Linking with lovelinks #20.