Bitch, as defined by the Merriam-Webster dictionary: a lewd or immoral woman; a malicious, spiteful, or overbearing woman —sometimes used as a generalized term of abuse.
The first time someone called me a bitch was when I was 17 going on 18, and had just entered college. A boy in my class said to me, "You're a bitch." I'm sure he had a terrible and unwarranted reason, and I'm definite I did not respond, probably too shocked to speak.
Since then, I've been called bitch many times. Mostly behind my back, sometimes in my face, but always, I'd be a little surprised.
As I am most certainly not lewd or immoral.
Nor am I malicious or spiteful. If I am, surely someone would have used those specific words.
I may have been overbearing at times, but just by being dominant and 'harshly and haughtily arrogant' (again, as defined by the dictionary), does not make me a bitch.
I would contest haughty and arrogant too, but that's for another post.
I've thought about this long and hard, over a period of years, as to why I've been labeled a bitch by some (self-reflection is good for you, people!).
Purely from a career perspective, these are the possible reasons why I'm a bitch:
1. I demanded perfection. Of myself, of the people who worked with me and for me.
2. I was (and still am) honest. I called a spade a spade. I hardly minced my words. I'm sure a few sensitive souls were hurt.
3. I stood up for myself, and for others in a similar situation. If we were being unfairly treated, I'd say so. Even if it meant pissing people off.
4. I worked hard. I worked my tail off. In the process, I may have been blindsided by that and neglected personal relationships with certain co-workers. I may have stepped on a few toes. And I didn't really care.
5. In working hard, I also worked my team hard. I was a slave driver. I was a stickler for deadlines.
6. I had no interest in office politics. I found the game play exhausting and pointless, and the constant butt kissing cringe worthy and a time waster.
7. I had high standards for my work. And if the work I submitted to the management involved input from other people, I labored over the details. I frequently sent stuff back to them over and over, wanting every single detail correct.
The people I worked with either loved me or hated me. I'm pretty sure the latter group threw the word 'bitch' my way more than a few times.
I was not deterred. I would not let a word define me.
I would rather define the word.
I would rather define bitch to mean:
Someone who will do their best for a career they love, or a passion that drives them.
Someone whose passion demands perfection, devotion and a certain amount of hardiness.
Someone who will stand up for themselves.
Someone who is honest and true to themselves.
So yes, I am a bitch. I am ME.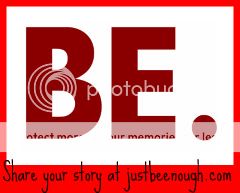 We are fighting cancer with the help of two incredible partners: Bellflower Books and Crickett's Answer for Cancer. For every 20 link ups received for a month starting August 22 at Just.Be.Enough, Bellflower Books will donate a $75 certificate toward a 20-page memory book to a family identified by Crickett's Answer who are fighting breast cancer. Our goal is to be able to provide ten women (that's 200 link ups) the opportunity to receive a special book created by family and friends that will be treasured not only by the brave women fighting, but by their families as well. If you have a story/ post to share, please link up.
So, are you a bitch too?